Lacerated #113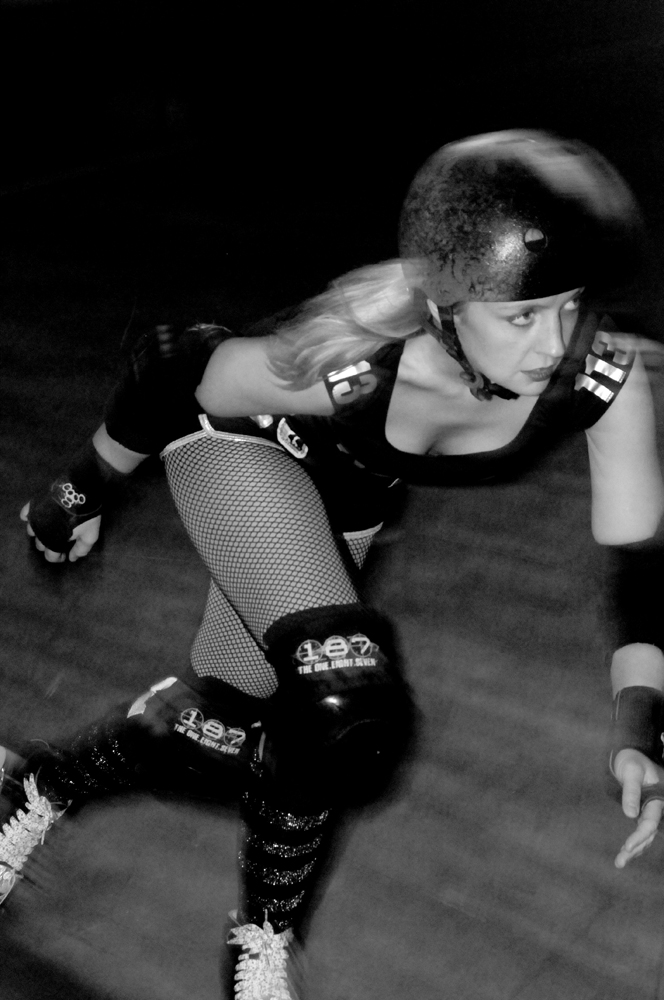 TAGLINE
The way this speed freak carves the track will leave you ragged, torn, lacerated!
POSITION(S) DERBY THAT IS
jammer, blocker
BAD HABITS
Going too fast to control
AWARDS/STATS
Most likely to be injured doing something I shouldn't
LIKES
Speed
DISLIKES
Dull people
SPECIAL FEATURES
Disarming smile and dimples
FAVORITE QUOTE
It's mercy, compassion, and forgiveness I lack; not rationality ~The Bride, Kill Bill Vol. 1
THEME SONG
Fuel by Metallica
FAVORITE MOVIE
Kill Bill
FAVORITE BOOK OR MAGAZINE
who can sit still that long?
FAVORITE PAST TIME
Going faster … land, water, or air …  always faster!
RIVALS
Superglue – closes flesh wounds, sticks things so they can't move, and I just can't be near a tube without gluing myself to something … or myself
HEROES
My dad, who taught me to skate, and always fight
WORST INJURY
Concussion … not that I remember
JOB
I.T. pays for my hobbies
EYE COLOR
Piercing blue
GOT KIDS? HOW MANY?
Nope
GOT PETS? WHAT KIND?
Feline
EDUCATION LEVEL
BS
POLITICAL TENDENCIES
Tend to avoid politics
SECRET
I'm not as sweet or innocent as you might think
CAN'T LIVE WITHOUT
Adrenaline!
MY LEAST FAVORITE PLACE TO BE IS
Sitting still. Or lying flat on my back.
DESCRIBE YOURSELF IN ONE WORD
Razor-sharp
TATTOOS/PIERCINGS
No ink, few holes.