Rxy Ramalotte #666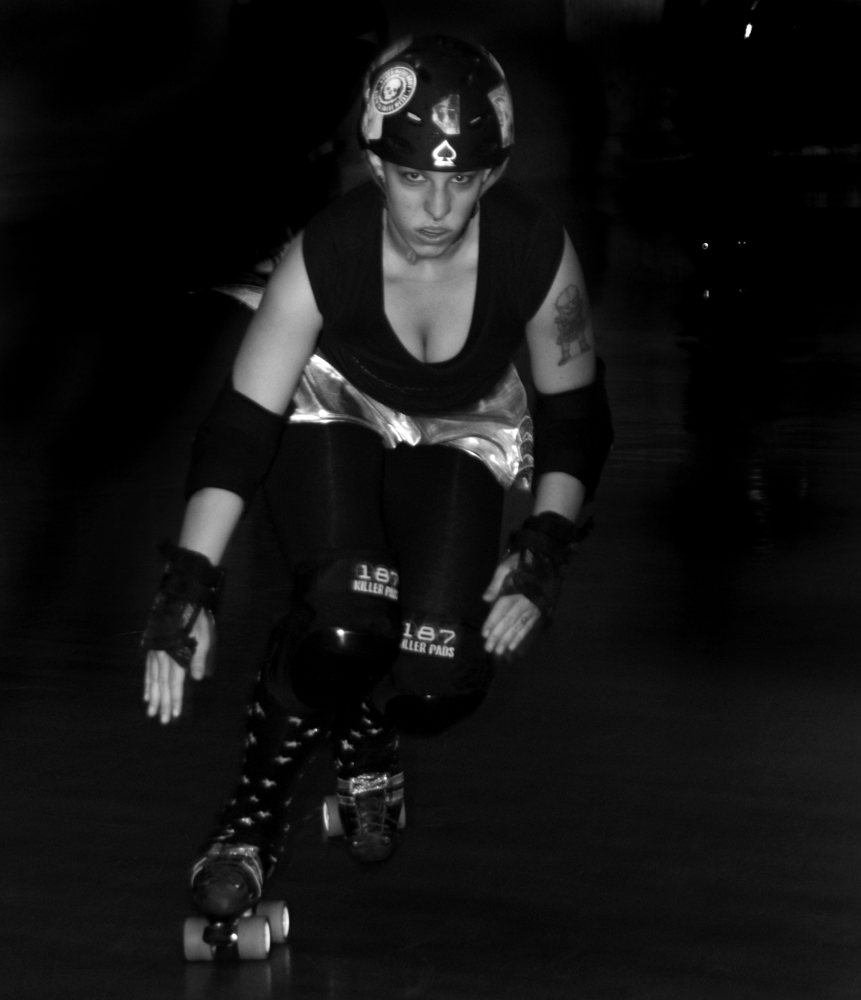 TAGLINE
This derby nightmare enjoys cockfights, the occasional mutilation and she soooooo wants to punch you in the face.
POSITION(S) DERBY THAT IS
Pivot, Jammer, Blocker
AWARDS/STATS
voted 'best booty' 2006, 'most feared' 2007
LIKES
satan, carnivals, silver things, cotton candy, debauchery, dead things, broken things, rusty nails, redbull, fishnet burn…
DISLIKES
unicorns, credence clearwater revival, dairy products, guyliner,  licorice, sarah palin…
SPECIAL FEATURES
Warning to driver: this rollergirl has been modified to enhance off-road performance and as a result this rollergirl may handle differently than a factory equipped rollergirl. Extreme care must be used to prevent loss of control or roll over during sharp turns or abrupt maneuvers. Failure to drive this rollergirl safely may result in serious injury or death. Do not drive this rollergirl unless you are familiar with her unique handling characteristics and are confident of your ability to maintain control under all driving conditions.
Not allowed to talk to fresh meat.
FAVORITE QUOTE
"""SKATE HARD! WRECK SH!T!"" – Bam Margera
""SKATIN' FOR SATAN"" – Heavy Metal Hookers, Philly Rollergirls"
THEME SONG
'crash', mr t experience. 'Payback', slayer. 'Barbie girl', aqua
FAVORITE PAST TIME
Cockfights
RIVALS
you got a f*cking problem?!?!
HEROES
wonder woman, jamilla deville, rosie the riveter, suzy hotrod, martha stewart, atomatrix
WORST INJURY
you mean battle scars?
JOB
hatin' on you
EYE COLOR
Hazel or Bloodshot
GOT PETS? WHAT KIND?
Cat – Ninja
POLITICAL TENDENCIES
survival of the fittest!
SECRET
it wouldn't be a secret if I told you.
DESCRIBE YOURSELF IN ONE WORD
Mean
TATTOOS/PIERCINGS
7 Tats – Lots of holes!