Skater of the Month: Rxy Ramalotte
Hudson Valley Horrors
| Saturday, September 1st, 2012 |
No Comments »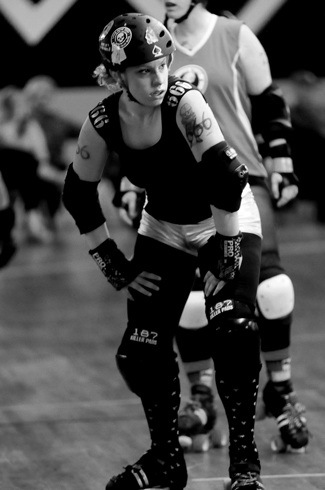 What sparked your interest in roller derby?
I always wanted to play full contact sports but was told that they weren't for ladies. Roller derby allowed me to be full contact and aggressive while showcasing femininity. I wanted to prove that women can be strong and tough and still have sugar and spice and stuff.
What has been your best derby moment?
I'd have to say that my moment is ongoing because training the Frightmares are my fave derby times. I enjoy teaching the kids how to play, being a role model and positive influence on our young ladies is important. I like to think I show them that it's okay not to fit into the box and if they really want something/anything they can have it but they have to work for it. I sure wish roller derby was an option when I was a kid!
What is something your fans would be shocked to know about you?
Well, I won't be playing the rest of the 2012 season because I'm Pregnant! Me and Suitor #1 are expecting a demon spawn. But, fans shouldn't worry because I'll be around at the rest of the 2012 games and plan to be back on the track and post baby angry mid-season 2013!
If you could move anywhere in the world, where would you go and why?
I can't choose one place, I'd like to move around a lot and make frequent visits back to NY

How many tattoos do you have? Any of them derby related?
I have a few tattoos, one is derby.
How did you create your derby name
It was totally on the fly. I wanted to be Roxi Rumbles but twoevils rejected it and I couldn't get in contact with the skater who had a similar name. So Ramalotte was chosen because I like to hit people

and i like to do it a lot. I don't have a clear recollection of how Rxy got to be spelled this way but i do know there was an altercation with the letter o, and the 666 part came later- Hail Satan!

Do you have any pregame rituals?
Two days before, hydration begins. Drink. Drink. Drink. I also try to clear my mind of roller derby completely, I know how to play, I have the skills I'm going to have on gameday, and it doesn't do me any good to stress out about who that team played and who won etc etc. One day before I drink more water, a B Monster smoothie, and eat some carbs for dinner. On gameday I wear Nike Pro Combat under-stuff, decide on what if any war paint I'll be wearing, and stay calm. I try to eat hard boiled eggs, salads, and bananas or oranges or apples or whatever fruit our bout committee has provided in our locker room before we play.
Who are your three favorite bands?
My taste in music is super random, at any moment it could be totally different and I skip almost every song on my ipod. So, I'd never be able to say who my fave bands are but I can say who the last 3 artists I didn't skip were (as of this mornings car ride). Jimi Hendrix, NoFx, and The Beatles.