admin
| November 11th, 2012 |
No Comments »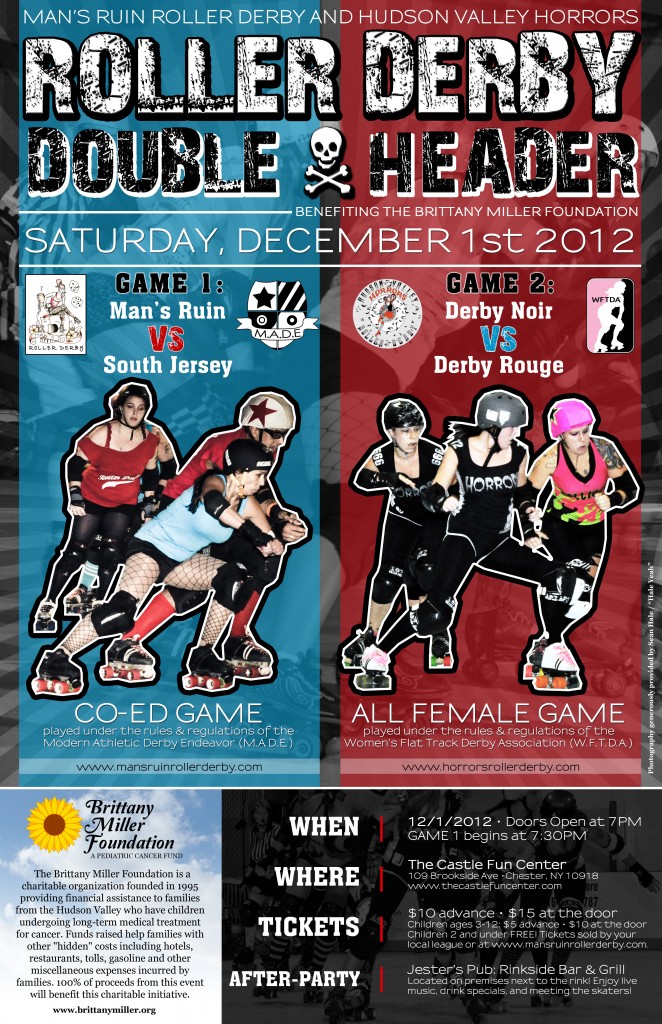 The Hudson Valley Horrors and Man's Ruin Roller Derby have joined forces in the spirit of giving to Support the Brittany Miller Foundation, a pediatric cancer fund.
The Brittany Miller Foundation is a charitable organization formed in the fall of 1995 to fill a great need in our community: providing financial assistance to families from the Hudson Valley who have children undergoing long-term medical treatment for cancer. Funds raised will not be used to pay for
the child's actual medical care; rather, donations will be made to families for other "hidden" costs, including hotels, restaurants, tolls, gasoline and other miscellaneous expenses incurred by families who must take sick children to hospitals or other facilities for frequent treatments.
The Foundation raises funds and disperses the same to families from the New York counties of Orange, Sullivan, Ulster, Dutchess, and Pike County PA who have children diagnosed with cancer.
100% Of the Proceeds from this even will Benefit this Charitable Initiative.
Please join us in helping this amazing cause.
You will get to see Man's Ruin V. South Jersey in a Co-ed Derby Dual played under M.A.D.E Regulations and Horrors Special presentation Derby Noir V. Derby Rougue played under W.F.T.D.A Rules. You can have fun and help those in need!
Tickets $10 in advance $15 at the Door. Children under 12 are $5.Tickets can be purchased online http://thecastle.pfestore.com/retail/rollerderby/Default.aspx.
Roller Derby Charity Bout Details
Event: HVHRD & Man's Ruin Roller Derby Double Header Charity Bout
Date: December 1st, 2012
Time: Doors open at 7:00 PM Bouts begin at 7:30 PM
Place: The Castle Fun Center 109 Brookside Ave Chester, NY
Press Contact: promotions@horrorsrollerderby.com
Can't Go?  You Can Still Help
If you cannot attend the event, you can still make a tax deductible donation and help be a part of us reaching our goal of $3,000.
Read More