Take the 2012 WFTDA Survey
Pinky Swears
| Sunday, February 5th, 2012 |
No Comments »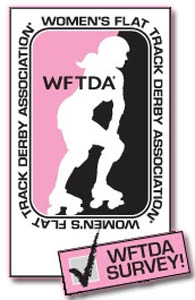 Help WFTDA Improve Your Roller Derby Experience!

The WFTDA is conducting their third annual demographic survey of skaters and fans.
The Women's Flat Track Derby Association is conducting two surveys to help them learn more about roller derby audiences. Please take a few minutes to share your thoughts with them. You can find the surveys at wftda.com/survey.
If you are a fan, skater, or league partner, participate in the third annual demographic survey.  The WFTDA wants to know more about you and your opinions of the game; it's your chance to be heard.
And if you are a skater or super-fan who watched the WFTDA tournament broadcasts or attended 2011 WFTDA tournaments in person, please also participate in the first tournaments and broadcasting survey. Help WFTDA plan to make the 2012 tournaments and broadcasts as successful as possible!
Both surveys will be open from Feb 1 through Feb 15th. Survey participants may optionally enter a drawing to win a WFTDA prize pack (a Ceramic Insulated Coffee Mug and a Gildan Soft Grey WFTDA Tee). Five winners from each survey will be selected at random after the surveys close and will be notified by email.
Thanks for helping make WFTDA roller derby even better!
The Women's Flat Track Derby Association is the international governing body for the sport of women's flat track roller derby and a membership organization for leagues to collaborate and network. The WFTDA sets standards for rules, seasons, and safety, and determines guidelines for the national and international athletic competitions of member leagues. There are currently 133 WFTDA member leagues and 81 leagues in the WFTDA Apprentice program.